Fun for all ages! Students not yet old enough to attend CVCA can still be part of the Royal family. Students in grades 1-5 are welcome to become a Junior Royal and enjoy some truly royal treatment! Year-long free sports passes, special events, and tons of prizes await you. We'd love to show you what being a Royal is all about! 
As part of this FREE program, Junior Royals Club members receive:
Admission to all home CVCA sporting events with your VIP sports pass and lanyard
15% discount on all CVCA Athletic Camps
Buy one, get one FREE at Sweet Frog (Stow, Fairlawn, and Green locations)
30-minute FREE add-on, with the purchase of one freestyle jump pass at Sky Zone (Boston Heights)
Purchase a Kona Ice and receive a complimentary cup up-grade (any Kona Ice West Summit County Kona Ice Truck locations).
Free Junior Royals Club T-shirt
For more information, please contact Kelly Porter at juniorroyals@cvcaroyals.org
Our 2022-2023 Events Include:
Junior Royals Men's Varsity Basketball Night –  Friday, January 13
Cheerleading Day at the Women's Varsity Basketball Game – Saturday, January 21
Junior Royals Hockey Night – Saturday, February 4
Junior Royals Spring Musical Night (featuring The Little Mermaid) at the Royal Theatre – Wednesday, April 26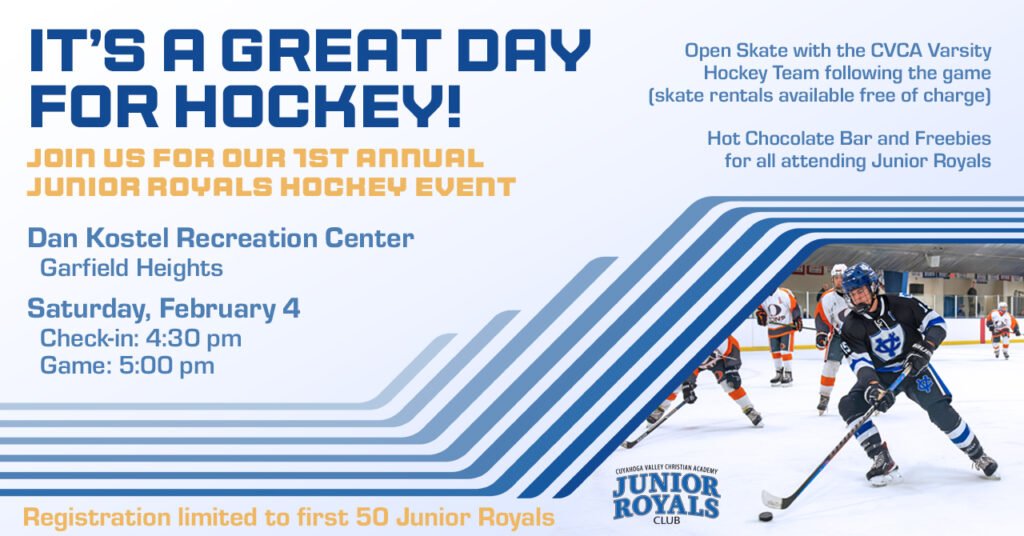 Check-in will begin at 4:30 p.m. The game will start at 5:00 p.m. at the Dan Kostel Recreation Center in Garfield Heights.
Registration is limited to the first 50 Junior Royals.
Registrants will enjoy an open skate with the team following the game (skate rentals free of charge), freebies, and a hot chocolate bar.
As part of this FREE program, Junior Royals Club members receive:
Admission to home Csporting events with your VIP sports pass and lanyard
15% discount on all CVCA Athletic Camps
Buy one, get one FREE at Sweet Frog (Stow, Fairlawn, and Green locations)
30-minute FREE add-on, with the purchase of one freestyle jump pass at Sky Zone (Boston Heights)
Purchase a Kona Ice and receive a complimentary cup up-grade (any Kona Ice West Summit County Kona Ice Truck locations).
Free Junior Royals Club T-shirt
For more information, please contact Kelly Porter at juniorroyals@cvcaroyals.org